Have you ever wondered what a scissor lift is and what they are used for? In this article, we will tell you everything you need to know about them, including the benefits of using a scissor lift, how much they cost to rent for a day, and how much they will set you back to buy. If you would like to learn more about scissor lifts, then read on for more info.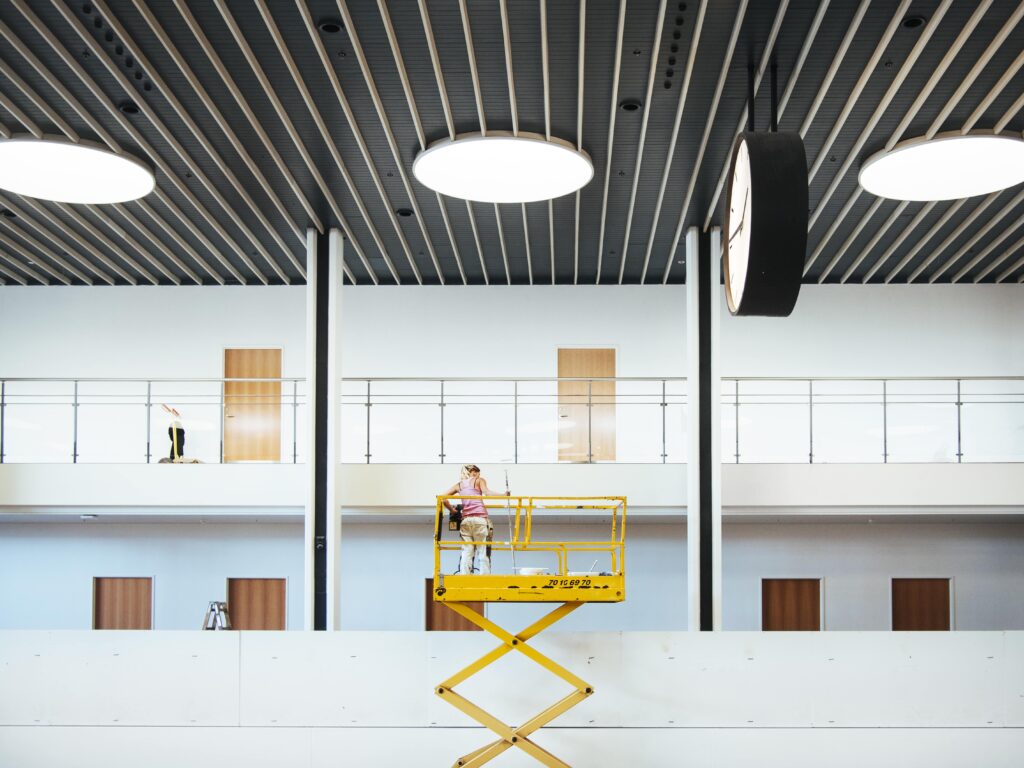 What is a scissor lift used for?
What is a scissor lift typically used for? Scissor lifts are a popular type of aerial work platform (AWP) or an elevated work platform (MEWP). These are used to provide the user with temporary access to greater heights. These types of lifts are used in maintenance-related jobs and used to undertake various construction projects.
The scissor lift was first invented by John W Parker in the USA, however, in 1963 Charles Larson patented it.
Unlike other elevated platform types, the scissor lift is the only platform that can only move vertically. That is because it is elevated by folding supports that are linked together in an "X" pattern. This is known as a pantograph. Although the scissor lift is inherently limited in terms of only offering vertical movement, some lifts have a platform that can be fitted with an outward extending section to allow users to gain closer access to their targeted work area.
The platform is elevated by pressure being applied to the external side of the lowest set of support, this then elongates the criss-cross support and subsequently raises the platform higher in the air.
Most scissor lifts are diesel-powered though they can be lowered without the need for using the power system and simply by releasing the hydraulic or pneumatic pressure.
The benefits of using a scissor lift
So, what are the benefits of using a scissor lift?
Access to greater heights and spots that are difficult to reach: Typical scissor lifts can be used to access heights of 32-feet. This is a great tool that allows the workers to use the scissor lift to reach heights that would have otherwise been very difficult to access. In general, the height and carrying capacity of the scissor lift is relevant to the total weight. The heavier your scissor lift the higher it can typically extend into the air.
Simple and easy to use: Scissor lifts are among the easiest and simplest to operate. The controls are very simple to use and are practically fool-proof which is ideal for operators who have active and demanding jobs. It also means that the operators can almost instantly be trained to use the scissor lift safely and without any cause for concern minimising the amount of downtime involved.
Compact size: A scissor lift is also one of the most compact elevated work platforms available. When working in tight spaces this is even more important and gives the scissor lift a serious advantage over most other aerial work platforms.
Minimum floor space required: Many other aerial work platforms require much more available floor space to operate safely. Again, scissor lifts are nice and compact and the total area required is equivalent to that of the lift-able platform itself.
Easy to customise: Depending on the industry that you are in a scissor lift can easily be customised to fit your needs and requirements. For example, if you would like to minimise the fall risk for your operators you can install "tilters". You can even install a scissor lift with turntables that allow you to rotate the platform once at the desired height offering that little bit more flexibility.
Economic: Scissor lifts are among the most economic and versatile elevated working solutions. You can quite easily service an entire warehouse using a single vertical life and in addition to that, hydraulic lifts consume practically no power which adds to their efficiency and eco-friendliness.
How much does it cost to rent a scissor lift in Australia?
So, how much does it cost to rent a scissor lift in Australia? If you are planning an event and you need to be able to work at great heights and only need a scissor lift for a limited period of time, then you will need to figure out how much it will set you back.
The cost of a scissor lift rental in Australia can range anywhere between $150 to $300 per day for an electric 6m lift, and upwards of $480 to $800 for a weekly charge.
Your alternative would be to hire and assemble scaffolding in order to work at such heights which could end up just as expensive – not to mention more time-consuming.
How much does it cost to buy a scissor lift in Australia?
How much does it cost to buy a scissor lift in Australia? If you expect that you will be required to work at great heights often in your line of work, then buying a scissor lift outright could be of benefit to you. For example, if you are a window cleaner, or perhaps you are an arborist specialising in clearing power lines, or if you have a warehouse: having your own scissor lift can bring a lot of advantages (as listed above). But how much would it set you back?
The scot of a scissor lift will vary greatly in Australia, depending on how big you need to go, including many other factors. To give you an idea, the price for an average scissor lift begins at around: $15000+ GST.
Of course, when buying a scissor lift you also need to think about how you will transport it. You can buy an Australian-made scissor lift trailer to get it from A to B.
Conclusion
To recap, scissor lifts are:
An elevated work platform that rises vertically
They can help you reach great heights
They are compact in size
They are simple and easy to use
Energy-efficient
Highly-customisable
Easy to transport
You can expect to pay between $150 to $300 per day for an electric 6m lift, and upwards of $480 to $800 to rent a scissor lift.
If you wish to buy a scissor lift outright the prices begin at $15000+ GST.
We hope that you have found this article helpful. If you do decide to go ahead and make your purchase, then we advise buying a high-quality trailer to help transport your scissor lift from job to job with great ease. Any reputable Australian manufacturer like SureWld PTY Ltd is recommended.