Your windows are often the focal point of your room. When uncovered or open, they can provide the option of looking out on the world, letting in light, and fresh air as needed. There are also plenty of times when you don't want to look outside and let others look in, where that light needs to be blocked out, and where you wish to cover your windows up.
This is where window coverings come in. There are a number of options available for you to utilise, some that are more impactful at blocking out light, others that are more versatile, or more beautiful to look at. Read on to discover the most popular types of window covering, and to help you decide which might be best suited to each of your rooms and circumstances…
What are the options when it comes to window coverings?
There are many different options for you to choose from, but the key types of window covering can be split into 3 groups – curtains, blinds, and shutters. Each has its own pros and cons and can be perfectly suited to your home depending on your personal preferences and requirements. Here we will take a look at each of these 3 varieties of window coverings to show you the differences…
Curtains
Curtains are among the most widely used window coverings and for so many great reasons. They are the best choice for blocking out light if you pick a thick fabric, helping to regulate sleep and allowing you to enjoy complete darkness when you want it. You can choose from an almost unending number of colours, patterns, and materials for your curtains so they are easy to match to your room.
Curtains are excellent if you want your privacy, and you can find options to suit every budget and taste. They are also fantastic insulators, helping to keep your home warmer in the colder months than a thin blind would.
One of the key downsides of curtains is that it is difficult to opt for a middle ground when it comes to privacy and light. You can't really let light in without also allowing people the chance to look in, and yet keeping your curtains closed to maintain privacy means blocking out both light and the view.
Blinds
Blinds can be a better choice than curtains as you have greater control over the light and visibility on offer. Many types of blinds offer the option to have them partially open, so that light can still pass through while passers-by cannot easily see in. You therefore also have greater control over the heat you allow in and can block UV rays while still being able to enjoy the natural light.
Blinds and curtains both share many of the same benefits, in that they are both available in any design that you want, and can be sourced cheaply. Indeed, you can find blinds for even less money than curtains, though that can come with some potential issues.
Cheaper blinds can be tougher to use, landing you in that nightmare situation. The one where your blinds are stuck up more on one side, half flipped inside out, and utterly irritating to sort out.
Shutters
Shutters offer many benefits to your home. They are beautiful to look at, adding a timeless elegance to a room that is hard to beat. They are also highly energy efficient, keeping the heat in when it is cold out, and keeping your home cool in the hotter months. They are fantastic for privacy, and even add an extra layer of security by keeping out prying eyes and helping protect your windows.
One of the key downsides with shutters, however, is that they tend to be more expensive than other types of window covering. You can find slightly cheaper options depending on the materials used and where you are, but you won't find any as affordable as the cheapest curtains or blinds.
What is the most popular window covering?
Choosing the exact most popular window covering is difficult as so many are popular in different rooms and for different reasons. Curtains are still arguably the favourite for bedrooms, while natural materials in shutters and blinds are increasingly popular this year in downstairs rooms. Plantation shutters are a classic and timeless choice that can add value to your home.
Meanwhile, the future is also rearing its head. Automatic or motorised blinds and shutters are one of the most popular new varieties of window covering. This popularity is sure to only increase as these products become even more affordable and more widely available to everyone. At the moment, they do tend to be a little pricier than more traditional options, which are still more likely to be chosen by the average household.
What is the cheapest way to cover a window?
When you are decorating your home, there are so many expenses. You may already find yourself choosing the cheapest floors for the best quality, paying out for new paint, and so on. It may be that you don't have the money left for the fanciest and most expensive window coverings around. If this sounds like you – good news. There are plenty of window coverings available that won't break the bank.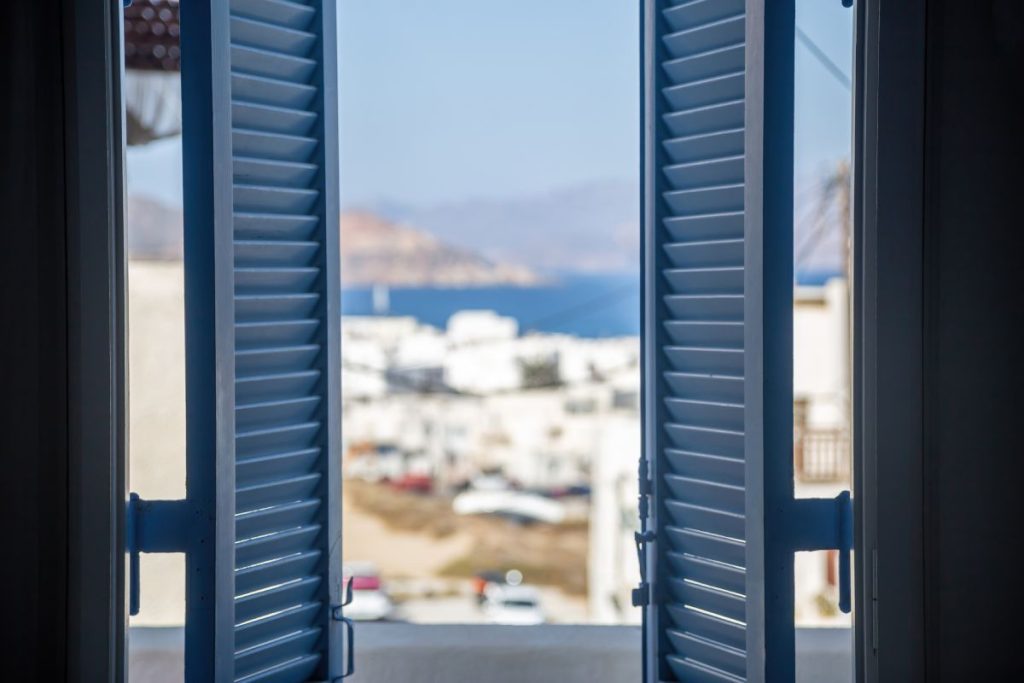 Firstly, you can choose something to cover the window itself. You can buy window film for just a few dollars a roll, which can provide privacy to different degrees depending on the type of film. If you are looking for more coverage, blinds are arguably the cheapest choice for your windows. You can buy blinds for as low as AU$10 per window, a price that no one could grumble at even on a budget.
Final thoughts
Your choice of window covering can make a huge difference to the look and feel of your home, making it more welcoming, more elegant, or more modern-looking. Curtains and blinds tend to have the most variety in terms of colours and styles for you to choose from. And you can find less expensive kinds that are still excellent quality as well.
If you are considering which window covering to choose, think about what you want and need the most. Think about light, privacy, the best aesthetics, and more, and choose your ideal kind of covering according to its key strengths.