As you're likely all too aware at this stage; planning a wedding isn't exactly cheap. There is a whole mess of things to plan and consider and the list seems to grow bigger every day. What once started off as a relatively affordable affair is slowly becoming uncomfortably expensive. But hey, it's your special day and (hopefully) you'll only have to do it once. That being said; it doesn't have to be as expensive as you might think! You shouldn't have to re-mortgage your house or blow your entire life savings. There are ways that you can cut down your costs and budget well. All it takes is a little planning and some careful consideration. There will be sacrifices, but provided that all of your friends and family are under one roof, celebrating the love between you and your better half, it will be a tremendous success anyway.
In this post, we're going to look at ways that you can tailor affordable wedding catering packages. There're no one-size-fits-all packages and provided that you find the right catering company, you should be able to achieve what you want without breaking the bank.
1 – Tone Down the Bar
The question is, do you really need to have a bar full of lavish cocktails and liquors? Of course, the more booze the merrier, but when you consider how much it will cost to provide such luxuries, it might not really be worth it. Consider Beer, Wine, and Champagne; what more could you need? And if we're being entirely honest and realistic, a number of your guests are likely going to sneak in the odd bottle of whiskey anyway, so you won't be letting anyone down.
2 – Cut Down the Courses
Do you really need to serve four courses, a 6-ft wedding cake, hors d'oeuvres, and all of the trimmings? Most people are going to be more focused on saving room for alcohol to be honest. On top of that, who even orders that much from a restaurant? You don't have to overdo it! Stick to two or three courses and you can't go wrong, – particularly if the food is remarkable.
3 – Go Easy on the Nibbles
If you're feeding them several courses as it is, your guests aren't going to need tonnes of snacks and nibbles to keep them going. Keep it simple, keep it light and save as much money as you can.
4 – Replace Appetisers with Gourmet Snacks
You don't need to serve fancy starters for your guests when they can nibble on cheese, crackers and other gourmet snacks whilst they're waiting for the main course. Don't feel bad, this is your day, and it's your money! If the main course and desserts are absolutely top-notch, then everyone is going to enjoy themselves and have their fill!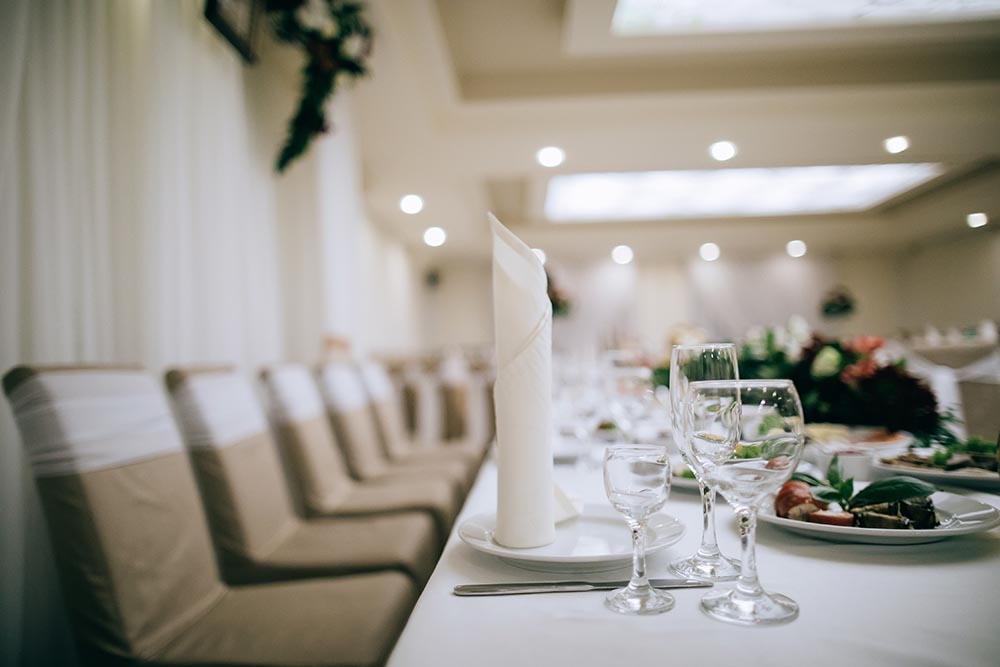 5 – Don't Go Over the Top
If you're on a tight budget, don't even think about serving surf and turf. Your guests don't need steak and lobster to have a good time and there's no good trying to go over the top for the sake of impressing anyone. Stick to the basics, offer a decent selection (including a vegan/vegetarian option) and you shouldn't have any complaints. Remember, this isn't "Come Dine with Me" – it's your wedding.
6 – DIY Food Stations / Buffet Style
You don't have to spend out on a lavish sit-down meal if you don't want to. You can save a lot of money by setting up several DIY food stations with all sorts of different buffet-style snacks. On top of that, it will create more of a buzz for your guests and encourage interaction between people who don't know one another.
7 – Opt for BYOB
Most caterers will offer a corkage fee where you and your guests can bring your own wine and spirits. This can save you a lot of money when it comes down to it, avoiding having to put money behind the bar for your guests. Don't feel bad, just do what you have to do! It's your wedding day and it's your money. Your friends and family will understand.
If you're feeling a little overwhelmed and would like some guidance, get in touch with a reputable catering company for some inspiration. There are plenty of affordable wedding catering companies out there, so keep an eye out and do your research before rushing in.